Explore the Vivace Music Academy Difference
We love all ages and levels
At Vivace Music Academy, it is our mission to equip students with the skills and guidance necessary to make prudent and thoughtful decisions that will enable them to succeed in any and all of their future endeavors.
Our dedicated and professional staff, state of the art facilities, and innovative programs will help, inspire and mentor all students to stay motivated and engaged, regardless of whether music is their primary focus, or merely a hobby. We love beginners and all ages !
Our Centralized location in West Palm Beach is walking distance to City Place, about 5 mins from many Elementary, Middle and High-School of Arts. Vivace Music Academy provides flexible hours to accommodate today's busy families.
Join us and together we can experience a life-time passion for music, one note at a time.
Vivace Music Academy offers private music lessons in violin, viola, piano, guitar, cello, voice and more. Group lessons, chamber music, string orchestra, conducting, music theory, solfege, lessons for ages and levels all in ONE location!
Reasons why we are the best music school for you
Since 1998 we have helped hundreds of students of all ages and levels begin and continue on their musical journey. We are one of the largest performing music schools in Palm Beach, and offering a variety of private and group lessons under one roof. We know you are busy and understand the challenge of finding the right school for you or your child. That is why we go above and beyond to find the best music teachers in the Palm Beach area, so you don't have to.
15 BENEFITS OF BECOMING A VIVACE MUSIC ACADEMY STUDENT
1 – The best comprehensive music lessons in Palm Beach                            
Vivace Music Academy offers music lessons in violin, viola, piano, guitar, cello, voice and more. Group lessons in keyboard lab, music theory, solfege, chamber music, string orchestra, conducting for experienced students round out the selection of experiences offered. Learn more about our music programs and instruments.
2 – The Most highly qualified teaching faculty in Palm Beach
From decorated soloists to celebrated orchestral performers, our faculty members are dedicated to helping you achieve your personal musical goals. With our highly trained and performance-oriented staff, we are confident that we will exceed your music education needs. Our instructors boast instrument-specific university degrees from prestigious institutions including the Peabody Conservatory, Miami University, Cleveland Institute of Music, New York University, Lynn University and Florida Atlantic University. Here at Vivace Music Academy, our staff is dedicated not only to teaching and performing, but also to spreading our philosophy of personal growth and community development.
3 – Musician Owned and Operated
With over 100 years of family history in music, Antonio Rincón was born into the heart of a musical family. As director and owner, Mr. Rincon has assembled a team of professional musicians who share his passion, enthusiasm and dedication for quality music education. Learn more about our director here.
4 – State of the art modern facility
Centrally located in West Palm Beach, our academy is convenient to all areas of Palm Beach. Our state-of-the-art facilities includes a comfortable and professional parent's lounge with free Wi-Fi, kids' toys, and magazines.
Spacious studio rooms are equipped with top-of the-line upright, baby grand piano and keyboard lab. All rooms are large and comfortable with everything you need for individual and group classes. We also provide large observation windows for every room so that you can watch your child's lesson while you wait. Or if you prefer, you can sit in on the lessons at any time.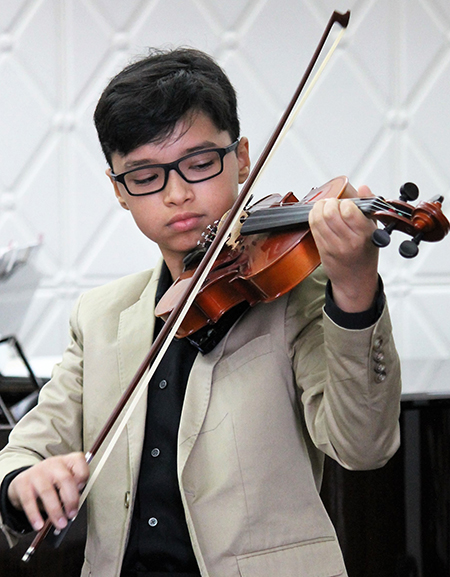 5 – Convenient location and parking garage on site.
Our academy is a short drive from City Place, Palm Beach, West Palm Beach, Lake Worth, Palm Beach Gardens, Lantana, Boynton Beach, and Wellington. With only 5 mins drive from Palm Beach Elementary School, Bak Middle School of the Arts and Dryfoos High School.  Our historic building has on-site free parking garage, and there is also on street parking available.
6 – Excellent, unforgettable performance opportunities and workshops
Students interact with each other by participating in performance, ensemble lessons, and masterclasses with faculty and other visiting artists. Every parent just wants to know how their child is doing and if they are really progressing. The best way for a parent to understand if their investment in lessons is really worth it is to have their children participate in a recital. Recitals display and elaborate each student's achievements in their instrument of choice. We hold recitals locally, unlike other schools, parents don't need to pay admission.
7 – Picture day
We offer a picture day for our students. Every six months, we host a free picture day. We want to celebrate your music and share that memory through pictures. Adults students are welcome too! Students can bring their instruments to the photos shoot and wear whatever they like.
8 – Make up lessons
Missed a lesson? out of town? Just sign up for our make-up lessons. They never expire, and you can come when it's convenient for you.
9 – Early morning and lunch time lessons for homeschoolers, retirees, college students and working professionals
We are able to be a full-service music academy. This allows us to offer lessons as early as 9:00 AM and we offer special between 9:00 AM and 2:00 PM during the weekdays. If you are a homeschool parent, retiree, college student or working professional who has a flexible schedule, take advantage of our early morning and lunch time spots.
10 – Month-to-month lessons without lengthy contracts
Our academy does not require long-term commitments for any of our lesson's programs. With month-to-month tuition, our students are able to evaluate their progress and have a more satisfactory learning experience.
11 – Vivace Chorus – Group Voice Lessons
The group voice lesson class is a unique experience for all children. Exploring a variety of genres, students will learn about basic melodic intervals, matching pitch, dynamics and musicality. Students will engage the whole body to create a beautiful sound with an entertaining presentation for voice lessons in a group setting.
12 – String Orchestra
Our String Orchestra is the perfect adjunct to individual lessons, students get skills in chamber music developing confidence and self-sufficiency, as well as team work through pear interaction. Students learn to play string orchestra repertoire challenging their techniques gain as a solo performer and applying their techniques in collective orchestral performances.
13 – Effective teaching method for beginners, starting as early as 3-5 years old
With over 10 teachers at the Academy, only a select few are assigned to evaluate our young beginners for readiness for music lessons. With the right teacher and effective method, our young beginners are set on the right path to develop passion for music and their choice of instrument.
14 – Multiple family members can take lessons in ONE location.
Our busy families with multiple kids and hectic schedules enjoy the convenience of having their children taking different lessons at the same time in one location.
15 – A wide range of lessons times available
To accommodate your busy schedules, we are open from 1:00 PM to 7:00 PM weekdays, and 9:00AM to 3:00PM on Saturdays. We are continually adding hours to ensure your have the perfect time. We offer Parent Portal Application conveniently providing at your finger-tips your scheduled lessons, announcements, interact with academy's staff to cancel a lesson, and secure make payments on-line. Excellent customer service is what sets us apart!
Latest News
July 25 through August 5 - SIGN UP TODAY ! One week or two weeks sessions available - 9AM to 3PM
The big day has arrived, April 24th and May 1st, 2021 is our Recital Performance. We are very proud to know that everybody is well prepared [...]
Show us your funniest, spookiest, outlandish, fall, cutest, cool, weird, furry or frightening costume with your music instrument starting now to November 2nd.
My daughter has been taking lessons with Mr. Rincon for a few years. She has grown tremendously not only in her violin abilities but her love for the instrument!
I cannot put into words the progress my 2 girls have made since becoming Mr. Rincon students. My girls have loved having him as their teacher since their first lesson.