VOICE LESSONS IN PALM BEACH
Our voice teachers primarily focus on Broadway, classical and popular music. Our Voice lessons are offered to students above age 5 and are the most comprehensive voice lessons in Palm Beach.
A variety of genres are offered including classical, musical theatre, pop, opera or any genre of your choice. Voice students spend time each week doing physical exercises to improve their vocal range, ear training, breath control, vibrato, tone production, enunciation and more.
All voice students set goals with their teacher to work on sounding like their favorite recording artists, or if they prefer, to develop their own unique voice. Sing your favorite music!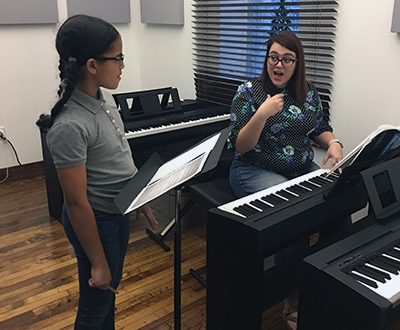 FREQUENTLY ASKED QUESTIONS
WHAT DO YOU LEARN IN YOUR VOICE LESSONS?
That question is often asked by prospective voice lesson students. Our voice lesson teachers make it a priority to get to know you on a personal level and to become familiar with your personal voice lesson needs and goals.
We do not treat every voice lesson student the same in terms of what and how we teach.
A seven year old having their first voice lesson will have very different needs than a fifty seven year old taking up voice for the 2nd time after having had lessons as a child.
The main reason to choose the Academy as your music lesson provider, is that we are sensitive to the fact that every voice student is an individual.
If you enroll here for voice lessons, we will work with you to make a plan that will fit your needs and musical preferences. At the first lesson your voice teacher will ask you about your favorite type of music, and set goals to help accomplish whatever musical aspirations you have for yourself or your child.
WHAT DO I NEED TO KNOW TO START VOICE LESSONS?
It is important to keep in mind that a voice is your personal instrument that needs much protection and careful maintenance.  We take great care of hiring only qualified vocal professional in the field, because our students' vocal health is extremely important to us. Our voice students start their classes with vocal warm ups and end with their favorite vocal repertoire.  Due to necessary vocal warm ups, we recommend that our voice students sign up for slightly longer classes than we normally recommend to our instrumental students, unless the students are 5-7 years old.
WHAT STYLES OF VOICE DO YOU TEACH?
A variety of genres are offered including classical, musical theatre, pop, opera, jazz, country, blues and any genre of your choice.
ARE YOUR VOICE INSTRUCTORS QUALIFIED?
Our voice teachers and music instructors have received their education from prestigious institutions from all over the world such as Peabody Conservatory, Miami University, Cleveland Institute of Music, Lynn University and Florida Atlantic University. Many of our instructors have gone on performance tours of the US, Latin America and Europe and have over 25 years of professional performance and teaching experience. In addition to their teaching credentials, our teachers have warm personalities, are extremely friendly and strive to get to know each student and their parent on a personal level.
Do you need more information to start with Voice Lessons?
Call 561-804-6687 and our friendly and knowledgeable Consultants will answer any questions you may have.  It's easy to join our musical family: in only a few minutes we can enroll you in month-to-month GUITAR Program.  We do not have long-term contracts, and you can always terminate your contract by the 15th of each month.
Vocal music is probably the oldest form of music, since it does not require any instrument besides the human voice. All musical cultures have some form of vocal music. Vocal music can describe any music produced by the human voice, but is generally differentiated from choral music, which is sung by large groups. Because its instrument is the body itself, it is the most primal music produced by humans and is common to all cultures. It is most frequently expressed as song, words sung to a melody. At least since the Middle Ages, songs have commonly been accompanied by a string instrument, often played by the singer, a tradition that continues to the present. Art songs with piano accompaniment often gathered into thematically-related cycles, came to prominence in the 19th century in the works of Schubert, Schumann, Brahms, and Wolf. Nearly all European composers of the era wrote songs. Post-Romantic composers like Mahler and Richard Strauss popularized songs and song cycles with orchestral accompaniment, and songs have been significant in the output of modern composers such as Poulenc, Britten, and Barber.
FAMOUS VOCAL ARTISTS
Diana Ross, Elvis Presley, Michael Jackson, Cliff Richard, Gloria Estefan, Mariah Carey, Celine Dion, Phil Collins, Frank Sinatra, Barbra Streisand, Whitney Houston, Andrea Bocelli, Pavarotti, Taylor Swift, Prince, Paul McCartney,  Katy Perry, Adele, Lady Gaga, Bruno Mars, Rihanna, Beyonce,  Ed Sheeran.